Details

November 9-10, 2022
FPA All-Ohio Symposium
Hyatt Regency Columbus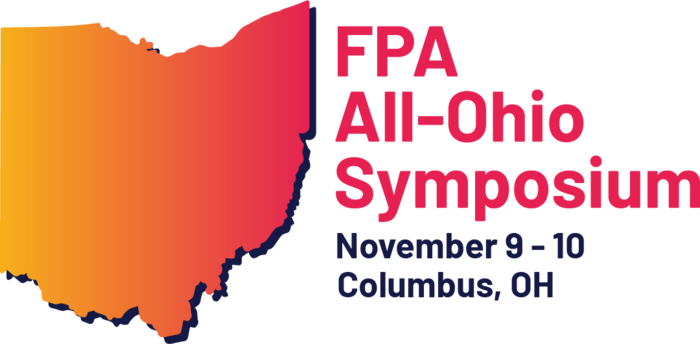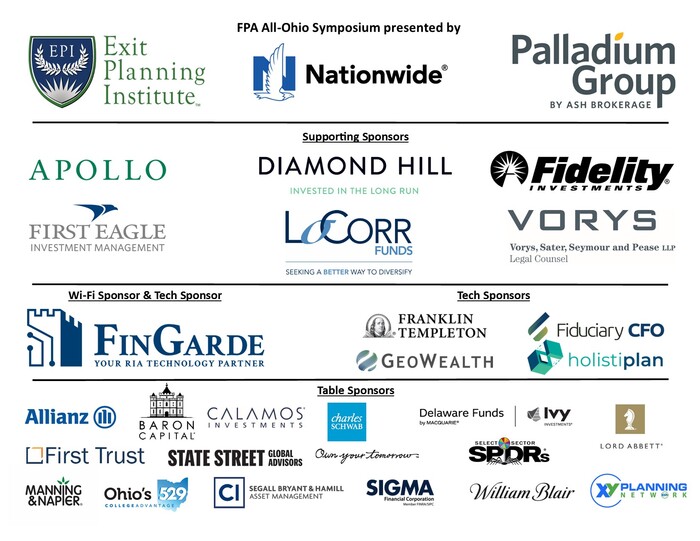 ALL-OHIO Symposium 2022
ABOUT
The Central Ohio, Northeast Ohio, and Southwestern Ohio chapters of the Financial Planning Association are very excited to present the first FPA All-Ohio Symposium. This joint symposium will be hosted at the Hyatt Regency Columbus located in downtown Columbus, Ohio. The event, which will also be offered virtually, will feature an ethics session and welcome reception on November 9, 2022 and a full day of quality programming with national speakers on November 10, 2022.
SPONSORSHIP
Don't miss this opportunity to get in front of hundreds of financial planning professionals from Ohio and neighboring states.
Your partnership provides the support needed to produce a high-level conference. Symposium partnership provides your firm exposure and access to a very targeted demographic and the agenda includes extended breaks in the exhibitor area allowing ample opportunity to solidify your current business relationships and make new ones. Be sure to take full advantage and gain maximum exposure by applying for partnership today!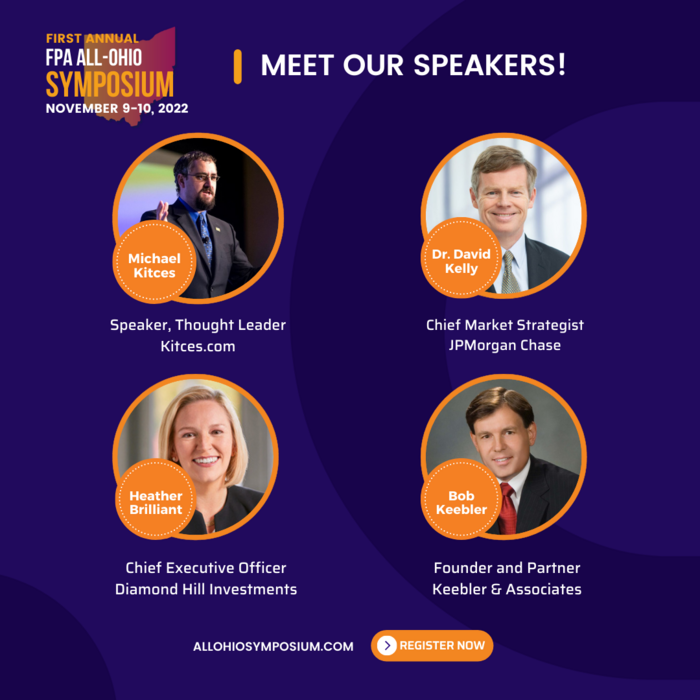 SCHEDULE
All events will take place at the Hyatt Regency Columbus, 350 N High St, Columbus, OH 43215
Wednesday, November 9, 2022
3:00 – 5:00 pm – Ethics
5:00 – 7:00 pm – Welcome Reception
Thursday, November 10, 2022
7:00 – 8:00 am – Continental Breakfast
8:00 am – 12:00 pm – General Keynote Sessions featuring Michael Kitces, Robert Keebler, Heather Brilliant, and more
12:00 – 1:15 pm – Lunch featuring an update from FPA CEO, Patrick Mahoney, and FPA President, Dennis J. Moore, MBA, CFP®
1:15 – 5:00 pm – General Keynote and Breakout Sessions featuring Dr. David Kelly and more
CONTINUING EDUCATION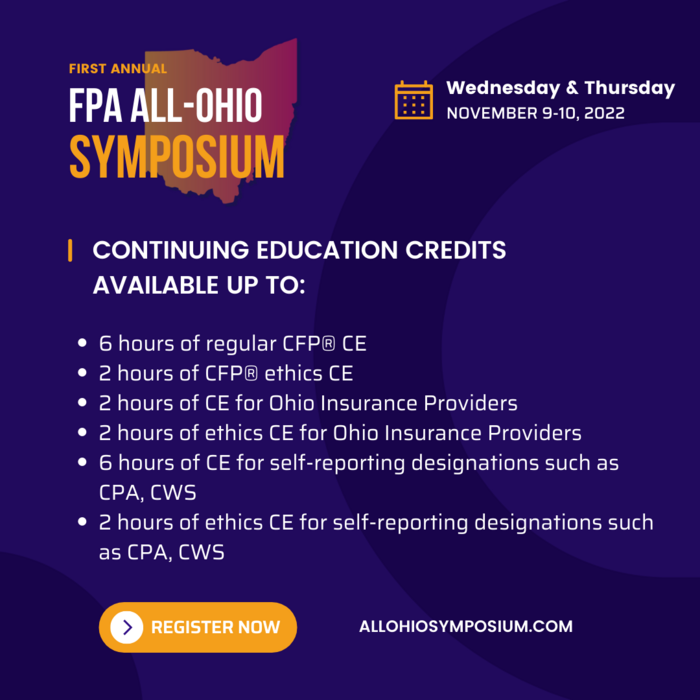 REGISTRATION
Registration fees are the same for in-person or virtual attendance (you will indicate your attendance during registration). The in-person fee includes the welcome reception on November 9, breakfast and lunch of November 10, and continuing education credits as covered above. The virtual fee includes access via Zoom and continuing education credits as covered above.
Early Bird

Regular

ADD ETHICS

Members

$150

$200

$25

Non-Members

$200

$250

$50

Group Rate
(8 spots for the price of 7)

$1,050

$1,400

$175
Are you a full-time undergraduate student? Please email admin@fpacentralohio.org to inquire about a reduced student rate."
Please note you will need to create an account to register, unless you have already created an account with FPA Central Ohio before. If you are registering to attend or participate as a sponsor for the All-Ohio event, your contact information will only be used for that event and your information will not be shared.
HOTEL ACCOMMODATIONS AND VENUE INFORMATION
Hyatt Regency Columbus
350 N High Street
Columbus, OH 43215
There is a discounted rate of $189++ available to symposium attendees for the evenings of Wednesday, November 9 and Thursday, November 10. This rate is available until October 19, 2022.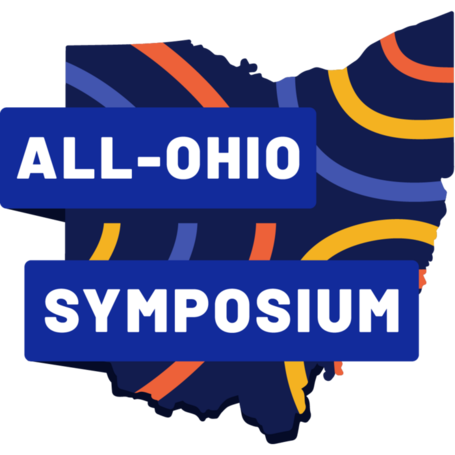 Add to Calendar
aCLuDhaqizCaPxAftmqF167204
11/09/2022 03:00 PM
11/10/2022 05:30 PM
false
America/New York
FPA All-Ohio Symposium
ALL-OHIO Symposium 2022 Click Here to Register TODAY! ABOUT The Central Ohio, Northeast Ohio, and Southwestern Ohio chapters of the Financial Planning Association are very excited to present the first FPA All-Ohio Symposium. This joint symposium will be hosted at the Hyatt Regency Columbus located in downtown Columbus, Ohio. The event, which will also be offered virtually, will feature an ethics session and welcome reception on November 9, 2022 and a full day of quality programming with national speakers on November 10, 2022.   SPONSORSHIP Don't miss this opportunity to get in front of hundreds of financial planning professionals from Ohio and neighboring states. Your partnership provides the support needed to produce a high-level conference. Symposium partnership provides your firm exposure and access to a very targeted demographic and the agenda includes extended breaks in the exhibitor area allowing ample opportunity to solidify your current business relationships and make new ones. Be sure to take full advantage and gain maximum exposure by applying for partnership today! Click Here to RESERVE YOUR SPONSORSHIP TODAY!   SCHEDULE All events will take place at the Hyatt Regency Columbus, 350 N High St, Columbus, OH 43215 Wednesday, November 9, 2022 3:00 – 5:00 pm – Ethics 5:00 – 7:00 pm – Welcome Reception Thursday, November 10, 2022 7:00 – 8:00 am – Continental Breakfast 8:00 am – 12:00 pm – General Keynote Sessions featuring Michael Kitces, Robert Keebler, Heather Brilliant, and more 12:00 – 1:15 pm – Lunch featuring an update from FPA CEO, Patrick Mahoney, and FPA President, Dennis J. Moore, MBA, CFP® 1:15 – 5:00 pm – General Keynote and Breakout Sessions featuring Dr. David Kelly and more   CONTINUING EDUCATION   REGISTRATION Registration fees are the same for in-person or virtual attendance (you will indicate your attendance during registration). The in-person fee includes the welcome reception on November 9, breakfast and lunch of November 10, and continuing education credits as covered above. The virtual fee includes access via Zoom and continuing education credits as covered above.   Early Bird Regular ADD ETHICS Members $150 $200 $25 Non-Members $200 $250 $50 Group Rate (8 spots for the price of 7) $1,050 $1,400 $175   Are you a full-time undergraduate student? Please email admin@fpacentralohio.org to inquire about a reduced student rate." Click Here to Register TODAY! Please note you will need to create an account to register, unless you have already created an account with FPA Central Ohio before. If you are registering to attend or participate as a sponsor for the All-Ohio event, your contact information will only be used for that event and your information will not be shared.   HOTEL ACCOMMODATIONS AND VENUE INFORMATION Hyatt Regency Columbus350 N High StreetColumbus, OH 43215 There is a discounted rate of $189++ available to symposium attendees for the evenings of Wednesday, November 9 and Thursday, November 10. This rate is available until October 19, 2022.  BOOK YOUR HOTEL ROOM 2022 Partnership Benefits Packet See who's coming
Hyatt Regency Columbus